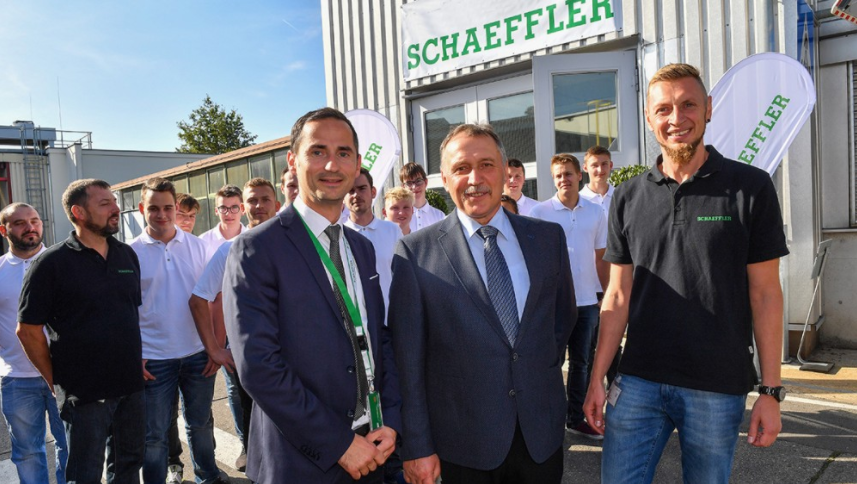 Handover ceremony in Gunzenhausen: Plant Manager Jochen Fuhrmann (left) thanked Hans-Josef Zuckermeier (center) for his loyalty to the company over the years. Alexander Roß (right) takes over the training management in Gunzenhausen.
Hans-Josef Zuckermeier leaves the company after 46 years
Successor as training manager in Gunzenhausen is Alexander Roß
"Lifelong learning as an opportunity"
After more than 46 years at Schaeffler, Hans-Josef Zuckermeier has retired. At a festive event, companions paid tribute to the 62-year-old, who led the training at Gunzenhausen for 37 years. During this time Zuckermeier accompanied the trainees at the start into their professional future. He will be succeeded by Alexander Ross.
Lothar Langer, Head of Personnel Germany at Schaeffler, said: "Loyalty to a company for such a long time is no longer a matter of course and in your case a lifetime achievement is worthy of mention. They have redesigned the training workshop here at the site and have ensured with great commitment and responsibility that the training is highly attractive for many years. "Langer Glück wished the successor success and understanding for the interests of the trainees and referred to the high status of the vocational training Training in the company. Tanja Baierlein, HR Manager at the Schaeffler Gunzenhausen site, also looked back on the successes of Zuckermeier: "They always wanted the best apprentices and training at the highest level. And that has been shown in the very good exam results, numerous state awards and honors. "
Also, representatives of partner companies, the vocational school and the IHK thanked for the successful, long-term cooperation. Hans-Josef Zuckermeier will continue to be examiner and member of the examination board of the IHK.
Zuckermeier himself was visibly moved when the current apprentices surprised him with a film and photo show.
Finally, Zuckermeier gave the trainees some advice for their future life: "You will get a great chance at Schaeffler with a modern training center. Take advantage of these opportunities, learn a lifetime and remain curious and critical. "